K2, a story of passion, adventure and flight in the heart of the Alps...
K2 Parapente is first of all the meeting between Christophe WALLER and Maxence JORCIN, two paragliding and piloting enthusiasts.
Since 2005...
They have been paragliding since they were teenagers, and very quickly, they wanted to share their passion with as many people as possible. In 2005, they decided to found K2 Parapente, the first paragliding school dedicated to pilot/SIV training. The school is certified by the FFVL.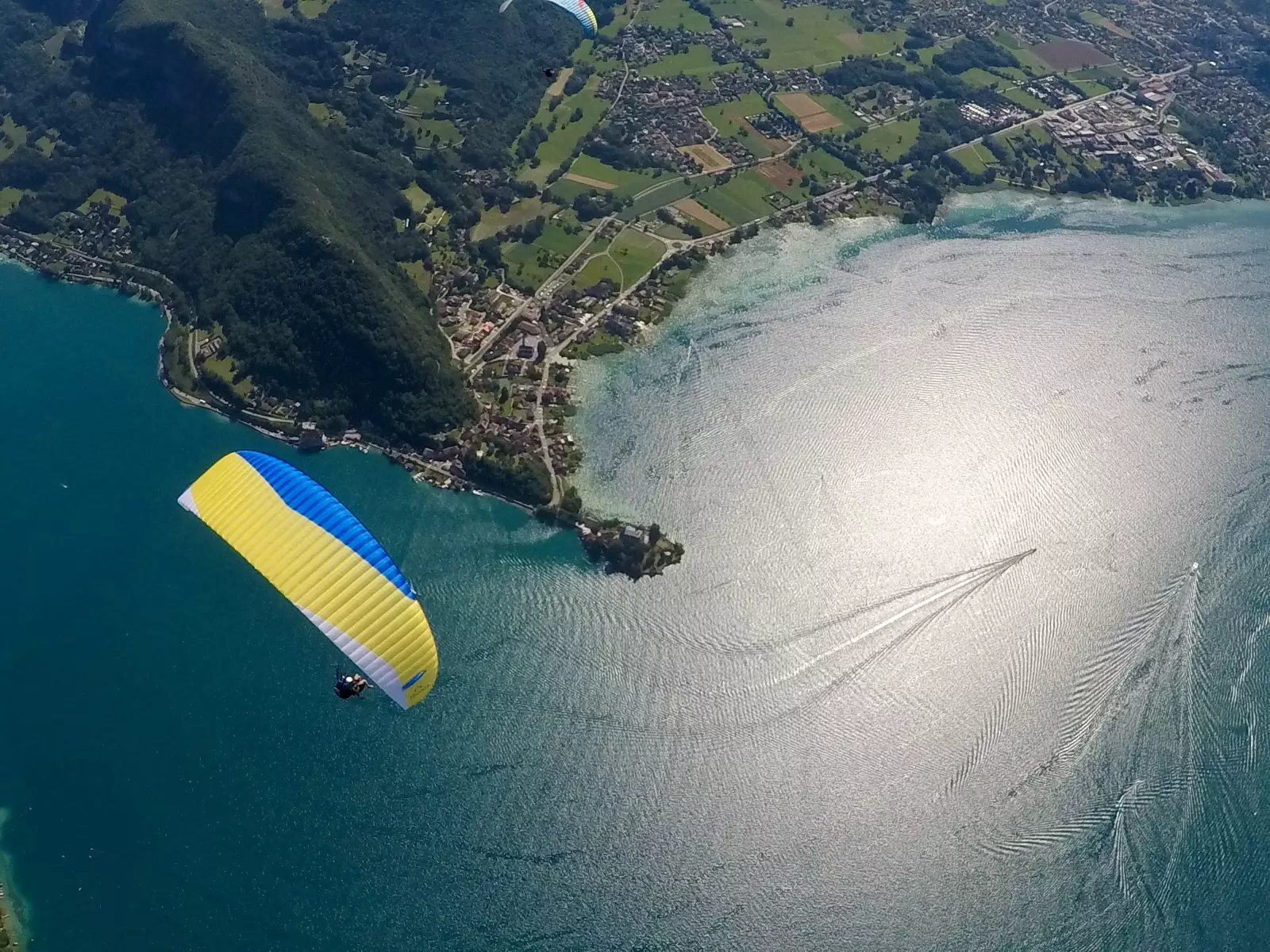 Maxence is very attached to her native Savoie, so it is only natural that K2 Parapente should take root in the Venice of the Alps, in Annecy. In this exceptional setting of Lake Annecy surrounded by the Alpine mountains, K2 Parapente has a paragliding take-off site at the Col de la Forclaz, in Montmin, 25 minutes above Doussard. This site, known worldwide to paragliding enthusiasts, offers unlimited possibilities.
Naturally, the K2 Paragliding team has grown over the years, but always in a friendly family spirit. With us, you will live a unique experience, surrounded by the best: we put at your disposal high level pilots for the teaching and the tandem paragliding, professional cameramen for the paragliding courses, and an involved and always cheerful reception team. Not forgetting the dog, Sya, who is always there for a little cuddle! Accompanied now since 2023 by Taïga!
Pedagogy, collaboration and listening are at the heart of the values of the K2 Paragliding School. Our philosophy is based on adapting to the rhythm of each person, whether it is a course or a tandem paragliding flight. We focus on the well-being of each of our trainees, so that each one can reach his or her own objectives: to experience a flight in fullness, aerobatics, or competition, ... The important thing is to have fun in the air!
K2 Parapente is also very involved in the progression of paragliding in France: we produce educational videos used by a large number of schools and we regularly write articles on paragliding in specialised media.
With a team of professionals from high level aerobatics, K2 paragliding focuses its teaching on the understanding of the pendular and aerodynamic movements of the wings to better adapt to your progress. Our goal is to provide you with all the elements to fly safely.
For the courses, two SIV qualified instructors are there to supervise you. The group is limited to 8 pilots in order to optimize your progress. The objective of the courses is to improve your technique according to your needs and to understand and anticipate the reactions of your wing.
For the paragliding baptisms, the idea is to try to transmit our passion to you and why not, one day, you launch yourself in the air!