Your first tandem paragliding experience in Annecy
Follow the guide to discover the tandem paragliding experience that suits you. All our flights are accessible to all. It's only a question of desire!
A few strides to get off the ground...,
Let's go for a magnificent tandem paragliding experience ! An extraordinary panorama is offered to you with your first paragliding experience: Lake Annecy, surrounded by the Aravis mountain range and the Bauges massif !
A tandem paragliding experience in the heart of the Alps
Experience a magical moment above Lake Annecy, flying in a tandem aircraft, for the best paragliding experience of your life ! Take advantage of a team of certified instructors to make your childhood dream come true in complete safety: fly over the most beautiful lake in France, with Mont Blanc and the most prestigious peaks of the French Alps as a crest line.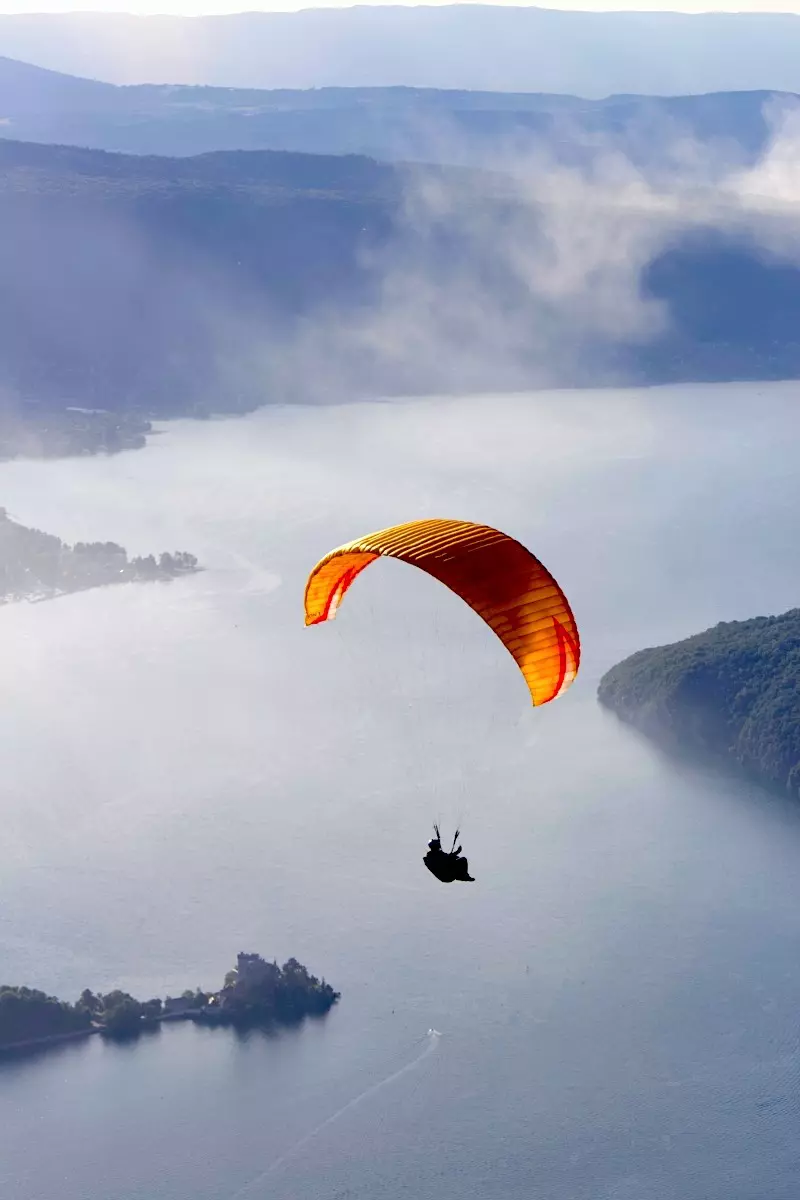 How does the first tandem paragliding experience work ?
We look forward to seeing you at our K2 Outdoor shop in Doussard on the day of your paragliding jump. Doussard is located on the lakefront, 17 km south of Annecy. The shop has a large free car park with 80 spaces.
We take our shuttle bus up to the Col de la Forclaz, in Montmin, in the Bornes massif, 25 minutes above Doussard, at an altitude of 1250m. The view is magnificent, plunging down onto Lake Annecy, the Faverges area and the Annecy basin.
The Col de la Forclaz is a well-known site for paragliders and free flight enthusiasts. It has notably hosted the world championships in acrobatic and distance paragliding.
Once you arrive at the take-off, your instructor will install you in the harness, give you your final recommendations and you can launch in pairs. For groups, several instructors are at your disposal to share your emotions during your first paragliding experience. So you can share this moment with others!
You can enjoy the landscape and the gentle flight which can last from 10 minutes to more than an hour. The landing is in Doussard, right next to the K2 Outdoor shop, where you return on foot or by shuttle once you are back on the ground! There we debrief and you can check out the photos and videos taken. We take care of everything. The photos will be put directly by our team on your smartphone or sent via "WeTransfer". (optional extra)
A tandem paragliding experience for whom ?
K2 Parapente offers several paragliding packages, accessible to all, adults and children, from 5 years old. There are no age limits, just your desire to discover tandem paragliding! No particular physical condition is required, except that you must be able to take a few strides at take-off for a maximum of 10 metres and not have a fear of heights. The take-off at the Col de la Forclaz is suitable for everyone.
Paragliding flight, which formula to choose ?
Our team of qualified instructors offers different packages to suit all budgets and desires. You can choose to fly from a minimum of 10 minutes to over an hour. You will enjoy a unique experience by choosing among several options: a great glide, ascents to gain height, sensations with acrobatic figures, learning technical gestures with an experienced instructor... As an option, you can choose the photo and video pack, a unique souvenir to keep and share with your loved ones.
The first paragliding school specializing in safety courses
The K2 Paragliding School was created in 2005 by two instructors who are passionate about teaching pilots. The school, certified by the Fédération Française de Vol Libre, K2 Parapente has been enriched with certified paragliding instructors and a competent and professional team of receptionists and technicians, some of whom have over 30 years of professional experience. Today, K2 Parapente offers first flights in Haute-Savoie and flying courses for individual and professional pilots over Lake Annecy and in all the Haute-Savoie massifs of the Mont Blanc region.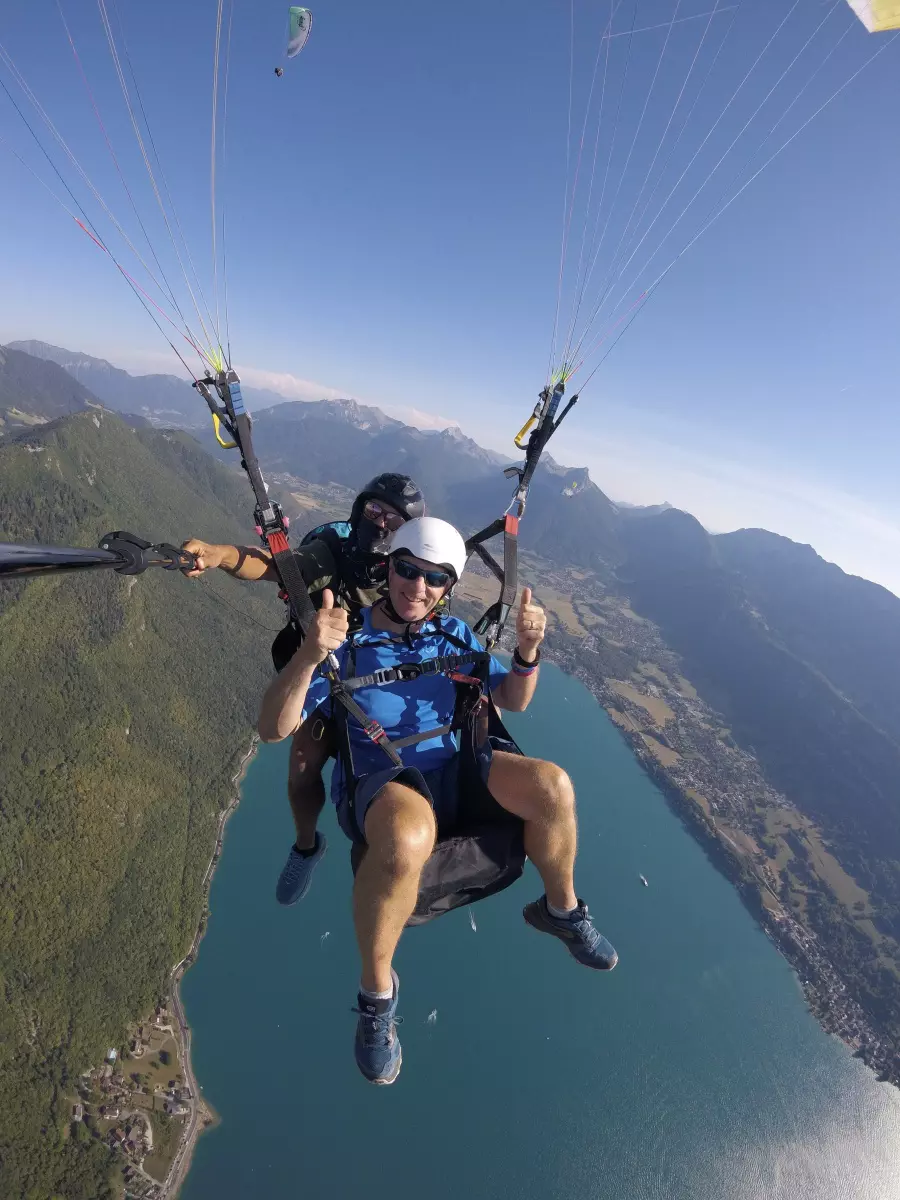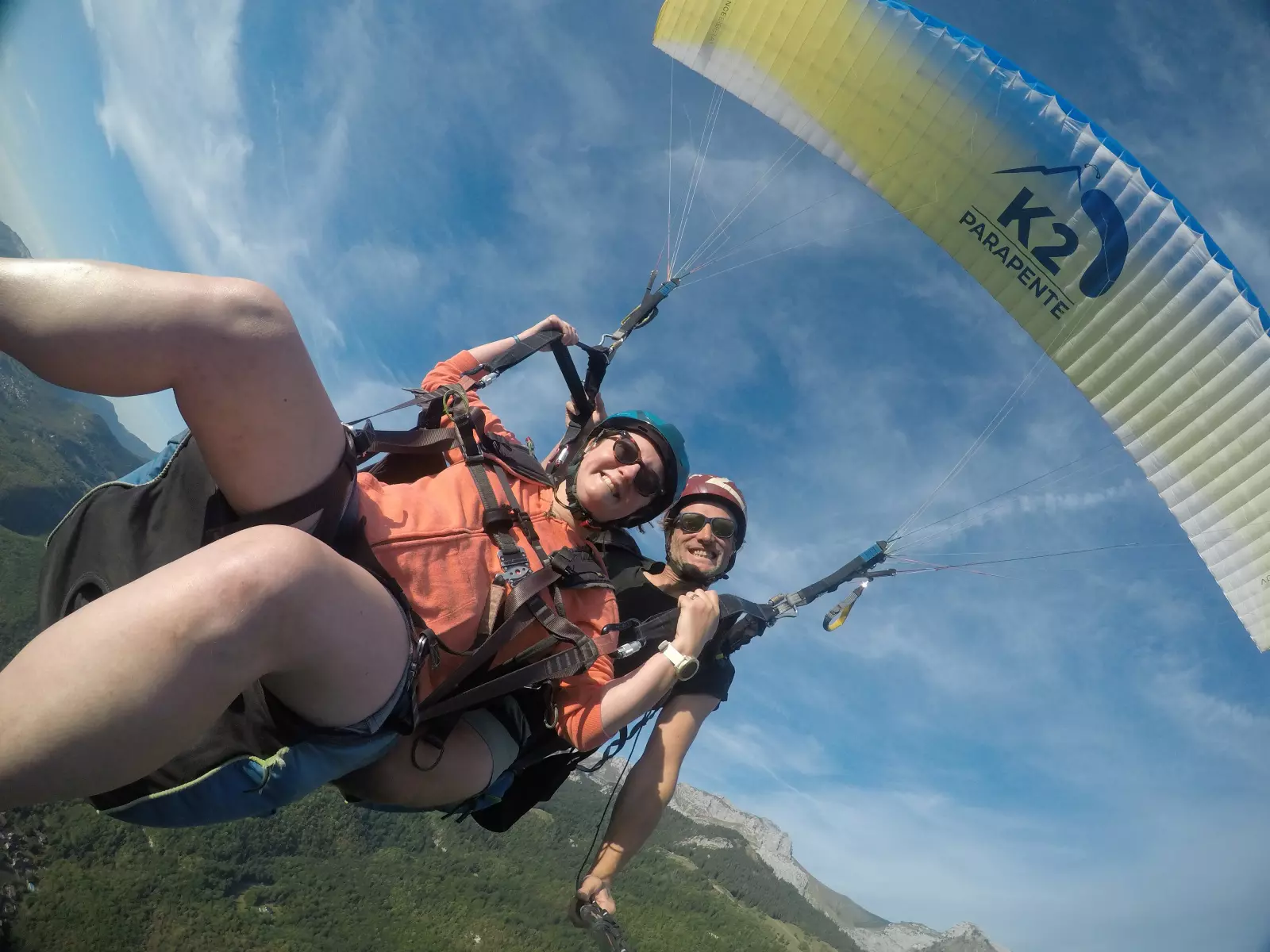 Annecy paragliding gift card: the sensational gift
Would you like to give a paragliding gift voucher to the person of your choice? You can choose one of the following paragliding gift voucher packages:

Adult formula, Minipouss children up to 12 years old, Voltige, Discovery, Sensation, Ascendance, Performance, Origin'aile, Le K2.

The lucky person will receive a downloadable personalised gift card; they can choose the date of their flight by contacting us.