Offer a Gift Card for a paragliding flight
You will give the best present !
All K2 Parapente first flights can be an original and sensational gift idea.
Choose K2
By choosing the K2 Parapente gift card, you are guaranteed to make someone happy who will have the chance to live a unique experience in an exceptional panorama between lake and mountain in the heart of the French Alps.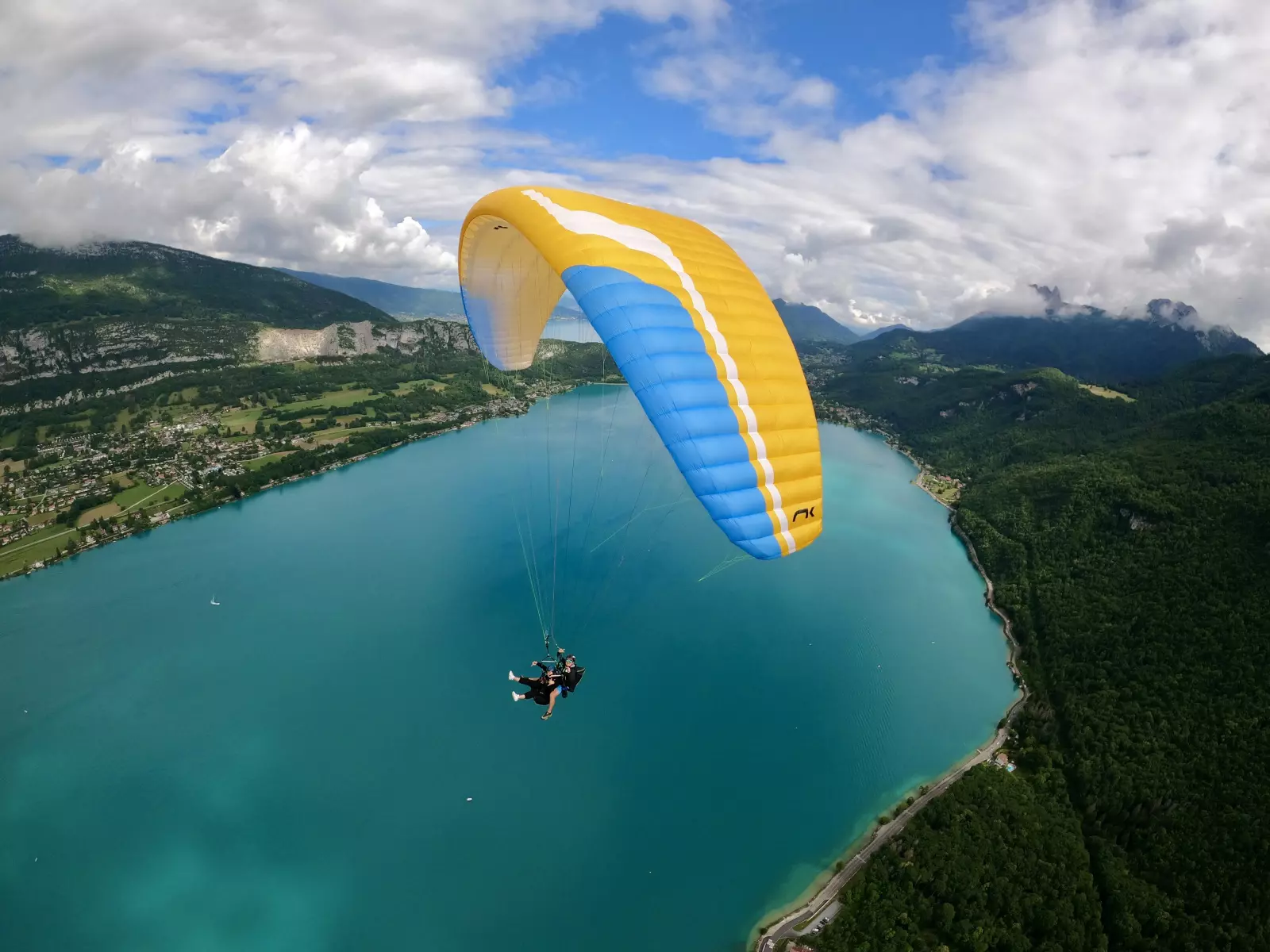 The gift of a first flight in 3 clicks
You select the christening package of your choice that matches the wishes of the person you are giving this gift to. You do not need to choose a specific date for the christening. The lucky person who will receive the personalised gift voucher will choose the date of his/her paragliding flight according to his/her availability by contacting us.

Once you have filled in the form and paid online on our secure platform, you will receive a confirmation email, including a printable and customisable gift card.

Don't forget the "photos and videos" option, which allows the person who will receive the gift to keep a souvenir of their exploits in a magnificent setting above Lake Annecy. Our photos and videos will be delivered either directly to their phone or by Wetransfert. Our team will take care of everything.
The gift card is valid for 12 months !
You can also choose to book a flight online by blocking a specific date available on our website. You select the paragliding package of your choice, then the date that suits you between April and October for your flight.
Please note that gift vouchers are not refundable.
A gift idea for the whole family!
Our tandem flights are open to all, children and adults, from 5 years old and without age limit, you just have to want to! You can offer a paragliding flight lasting a minimum of 15 minutes and up to a maximum of 1 hour 15 minutes.
There is no particular physical condition to have for a tandem paragliding discovery flight, except for being able to take a few strides at take-off for a maximum of 10 metres. Depending on the formula chosen, there may be acrobatic figures, with the same sensations as in a carousel. You just need to let the instructor know what kind of sensations your loved one is ready to experience. The take-off at the Col de la Forclaz is suitable for everyone, with no particular difficulty.
Discover all our tandem paragliding experience offers.
Our paragliding gift cards
- Gift voucher paragliding experience minipouss
- Gift voucher for a first paragliding experience
- Gift voucher for a first paragliding experience
- Gift voucher for a first paragliding experience
- Gift voucher for a first paragliding experience performance
- Prestige paragliding experience gift voucher