Top 5 things to do in Annecy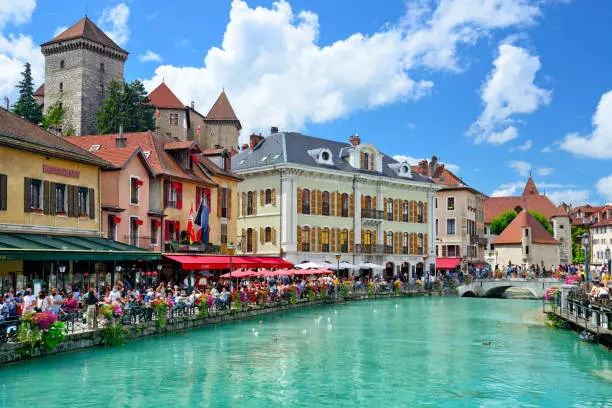 Top 1 : The old town of Annecy and its canals
With its pedestrian streets and canals, the old town of Annecy is a historic centre, not to be confused with Annecy-le-Vieux, another commune of Annecy.
To start your visit, K2 Parapente recommends that you stay on the Thiou, and get lost in the small streets of the town.
Once you've seen all the little corners, with the different churches and the Château d'Annecy, which overlooks the old quarters, go to the Gardens of Europe.
This small park runs alongside the lake, and then arrives on the Pâquier by taking the Pont des Amours.
This bridge is not lacking in romance and legend has it that a kiss exchanged on this bridge would unite lovers for eternity.
The Pâquier is 7 hectares which make it a large space available to all, it is a bit like the "Central Park" of the inhabitants of Annecy who like to meet there! You can also enjoy a superb panorama with Lake Annecy at its feet and the mountains plunging into the lake all around.
Finally, continue towards the gardens of the Imperial Palace along the lake promenade.
Top 2 : The Lake and its beaches
With its clear water and its beautiful blue and green colours, Lake Annecy offers a dozen beaches accessible to all. The water of the purest lake in Europe allows you to refresh yourself and spend sunny afternoons on beaches sheltered from the wind.
The lake also offers many sporting activities, such as windsurfing, water skiing, wakeboarding, paddle boarding and pedal boats.
K2 Parapente has put together a top 3 list of the best beaches in Annecy.
Angon beach : with its small stream and large trees, this very natural place has a breathtaking view of the mountains and the small lake
Impérial beach : With its retro feel, this beach has facilities that make it an ideal playground for all.
La Brune beach : A sandy lakefront with a gradual entry into the water is the recipe for a beautiful sunny afternoon.
Top 3 : paragliding area: discover Annecy from the sky
The best way to visit Lake Annecy is to fly over it. Take off from La Forclaz and Plantait and the lake is revealed, surrounded by the most beautiful alpine peaks. Supervised by qualified instructors, fly gently for 40 to 45 minutes over the crystal clear waters of Lake Annecy.
To enjoy this activity, visit our website (link to K2 website). A few steps to take off and off you go! Free flight or more sporty, you will finally understand why we like flying so much.
Top 4 :Boat trip and lake cruise
Cast off and join us for a trip on Lake Annecy!
There are different boat trips depending on your expectations. A cruise with a stopover to visit one of the towns around the lake, a complete tour without a stopover to see the whole lake or its most popular part, during the day or in the evening, it's up to you.
These cruises will take you to the four corners of the lake and discover the many treasures it has to offer, but also a unique history. Between castles, reed beds and mountains, embark on a timeless discovery cruise.
Top 5 : Discover the culinary specialities of the Haute-Savoie
The Haute-Savoie is nevertheless famous for its culinary specialities. In summer and winter alike, you can enjoy the sweet and savoury dishes typical of the region. Haute-Savoie's gastronomy is known for its high-calorie recipes, especially with cheese and charcuterie, but you can also find lighter and more traditional dishes.
The culinary specialities of Haute-Savoie are hearty and nutritious dishes. They are tasty recipes, which hold up well in the body. Typical savoury dishes of the region include :
Crozets : These small square-shaped pastas are made from wheat and buckwheat flour and are often served with cream and cheese. These pastas are a favourite with children and adults alike.
Matefan : this potato cake is eaten with different fillings
Rioutes : This is a dry, salty aniseed cake that is traditionally eaten dipped in a glass of red wine.
Diots in white wine : they simmer for 45 minutes in a white wine, onion and shallot sauce.
Frying fish : Yes, Haute-Savoie is full of fish. Young perch are particularly popular fried and you will find these culinary specialities of Haute-Savoie in every restaurant.
It is impossible to miss cheese when talking about culinary specialities, you have the choice! Reblochon, Beaufort, Tome des Bauges will delight your taste buds.
Raclette : complete it with the best charcuterie of the region to share a convivial meal with friends or family.
The Savoyard fondue : This hearty dish for sharing is usually made from cheeses such as Beaufort, Emmental or Comté. Dip your pieces of bread into melted cheese mixed with a few glasses of white wine. And don't forget that if you lose your piece of bread in the preparation, you have a token!
Tartiflette : a real institution. It is a dish of potatoes, bacon and Reblochon cheese. It is a very tasty and nourishing food, which can be enjoyed without moderation!
Croziflette : inspired by the legendary tartiflette, it swaps potatoes for crozets.
The specialities of Haute-Savoie also include many very tasty and original desserts.
The Savoy cake : This diet dessert contains no fat. It is light and very tasty, and is very easy to prepare as it contains only 4 ingredients (sugar, flour, eggs and yeast).
The Saint Genix : It is a tasty brioche flavoured with orange blossom. It also hides a few pralines to add crunch.
Rissoles : these turnovers can be filled with apple, pear or quince, but also with blueberries.
Chocolate truffles : These delicious chocolate truffles were invented in 1895 by a confectioner in Chambéry. They are a confection made with cocoa powder, fresh cream and vanilla.
Blueberry pie: It is a dessert made from fruit picked in the mountains.
The bugnes : are pretty, festive and comforting pastry fries. Traditionally made throughout the month of February.